math.ch/100
Schweizerische Mathematische Gesellschaft – Société Mathématique Suisse – Swiss Mathematical Society 1910
Bruno Colbois

University of Neuchâtel, Switzerland

Christine Riedtmann

University of Bern, Switzerland

Viktor Schroeder

University of Zurich, Switzerland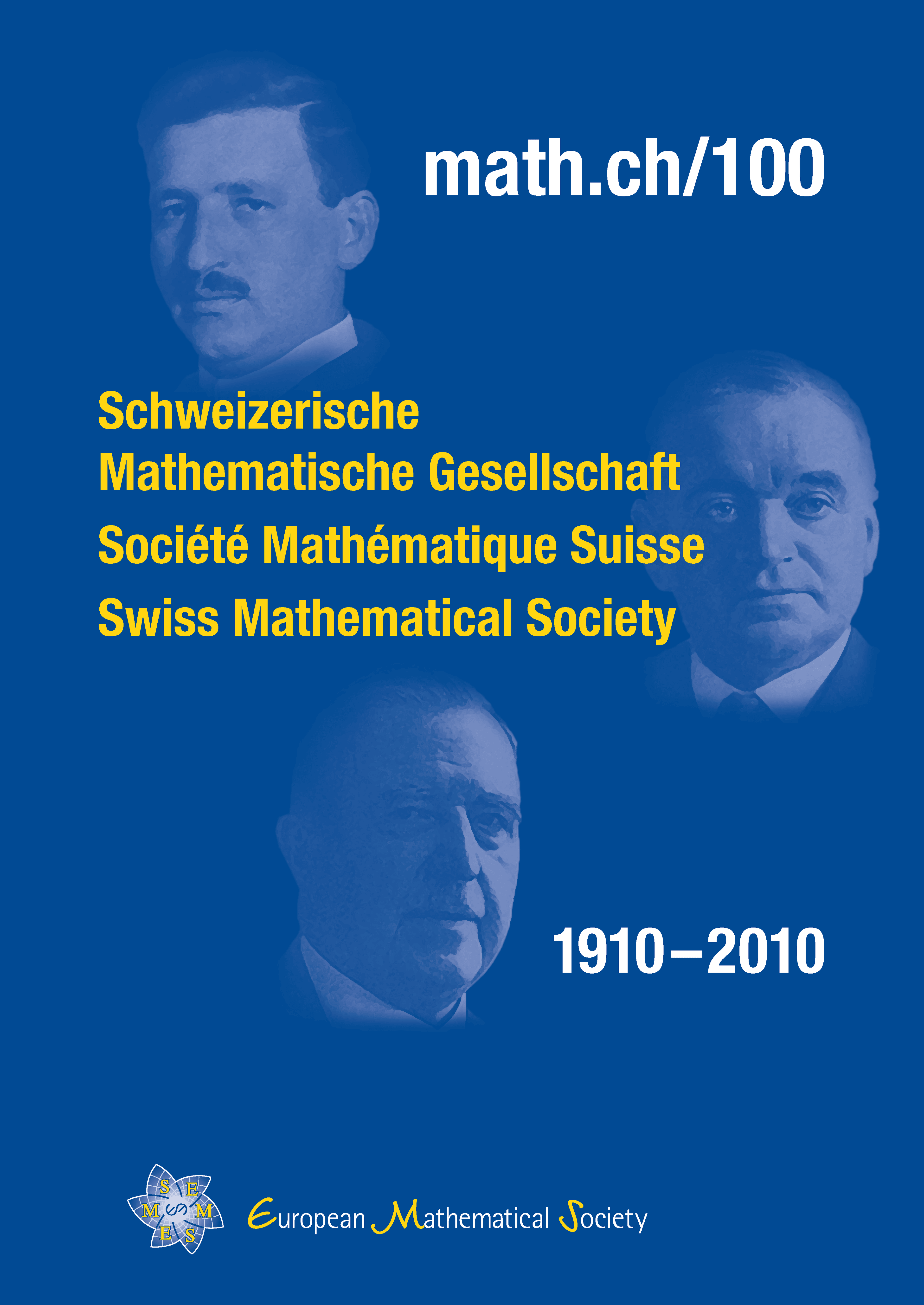 This book includes twenty-three essays to celebrate the 100th anniversary of the Swiss Mathematical Society. The life and work of outstanding mathematicians, extraordinary conferences held in Switzerland such as the three International Congresses of Mathematicians, the influence of women in Swiss mathematics are among the topics. The articles, including many photographs, old and recent, give a vivid picture of hundred years of mathematical life in Switzerland.
Dieses Buch ist eine Festschrift zum 100-jährigen Bestehen der Schweizerischen Mathematischen Gesellschaft. Es enthält dreiundzwanzig Beiträge zur Mathematik in der Schweiz. Geschichtliches und Biographisches über herausragende Mathematiker an Schweizer Universitäten, grosse Tagungen wie etwa die drei Internationalen Mathematiker-Kongresse, die Rolle der Frauen in der Schweizer Mathematik sind nur einige Themen. Insgesamt vermitteln die verschiedenen Essays zusammen mit den zahlreichen Abbildungen ein höchst lebendiges und anschauliches Panorama eines Jahrhunderts Schweizer Mathematik.
Cet ouvrage a été édité pour marquer le 100e anniversaire de la Société Mathématique Suisse. Il rassemble vingt-trois articles consacrés aux mathématiques en Suisse. Parmi beaucoup d'autres choses, les écrits évoquent la vie et l'œuvre de grands mathématiciens des universités suisses, les grands événements, dont les trois Congrès internationaux de mathématiques, ou encore la présence des femmes dans les mathématiques suisses. Agrémenté de nombreuses photos, anciennes et récentes, ce livre donne une image très vivante de cent années de vie mathématique en Suisse.