Mather measures and the Bowen–Series transformation
A.O. Lopes

Instituto de Matemática, UFRGS, Porto Alegre 91501-970, Brazil

Ph. Thieullen

Institut de Mathématiques, Université Bordeaux 1, 33405 Talence cedex, France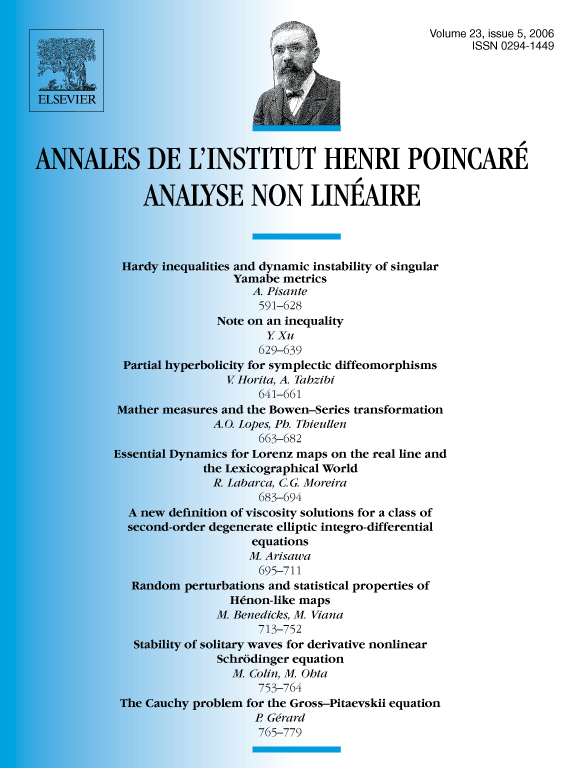 Abstract
We consider a specific example of a compact Riemannian surface M of genus 2 and constant negative curvature. We identify the boundary at infinity of M to the unit circle Σ=S1 and choose a particular Bowen–Series map T:Σ→Σ. We first show that a suspension of the natural extension of (Σ,T) by a roof function cohomologous to lnT′ is isomorphic to the geodesic flow on T1M. We choose a particular set of closed geodesics (δi​)i=14​ generating the fundamental group and a partition of Σ into disjoint intervals (Ai​)i=−44​ naturally associated to (δi​). We show that any ϕt-invariant probability measure μ minimizing L=21​∥v∥x2​ and with homology h=∑i=14​hi​[δi​] corresponds by the previous isomorphism to a unique T-invariant probability measure m satisfying
We also show that any ϕt-invariant probability measure μ minimizing ∫(L−ω)dμ for a fixed cohomology [ω] canonically corresponds to a T-invariant probability measure m minimizing
where (ωi​)i=14​ are the coordinates of [ω] in the dual basis of ([δi​]).
Résumé
Nous considérons un exemple spécifique de surface compacte M riemannienne de genre 2 et de courbure constante égale à 2. Nous identifions le bord à l'infini de M au cercle unité Σ=S1 et nous faisons le choix d'une application de Bowen–Series particulière T:Σ→Σ. Nous montrons d'abord que le flot suspendu au dessus de (Σ,T) par une fonction plafond cohomologue à lnT′ est isomorphe au flot géodésique sur T1M. Nous choisissons une famille de géodésiques fermées (δi​)i=14​ engendrant le groupe fondamental et une partition de Σ en intervalles disjoints (Ai​)i=−44​ naturellement associés aux (δi​). Nous montrons que toute mesure de probabilité ϕt-invariante μ minimisant L=21​∥v∥x​ et d'homologie h=∑i=14​hi​[δi​] correspond par l'isomorphisme précédent à une unique mesure de probabilité T-invariante m vérifiant :
Nous montrons aussi que les mesures de probabilité ϕt-invariantes μ minimisant ∫(L−ω)dμ pour une cohomologie ω donnée, correspondent canoniquement aux mesures de probabilité T-invariantes m minimisant :
(ωi​)i=14​ désignent les coordonnées de [ω] dans la base duale de([δi​]).
Cite this article
A.O. Lopes, Ph. Thieullen, Mather measures and the Bowen–Series transformation. Ann. Inst. H. Poincaré Anal. Non Linéaire 23 (2006), no. 5, pp. 663–682
DOI 10.1016/J.ANIHPC.2004.12.005