Rendiconti Lincei
Matematica e Applicazioni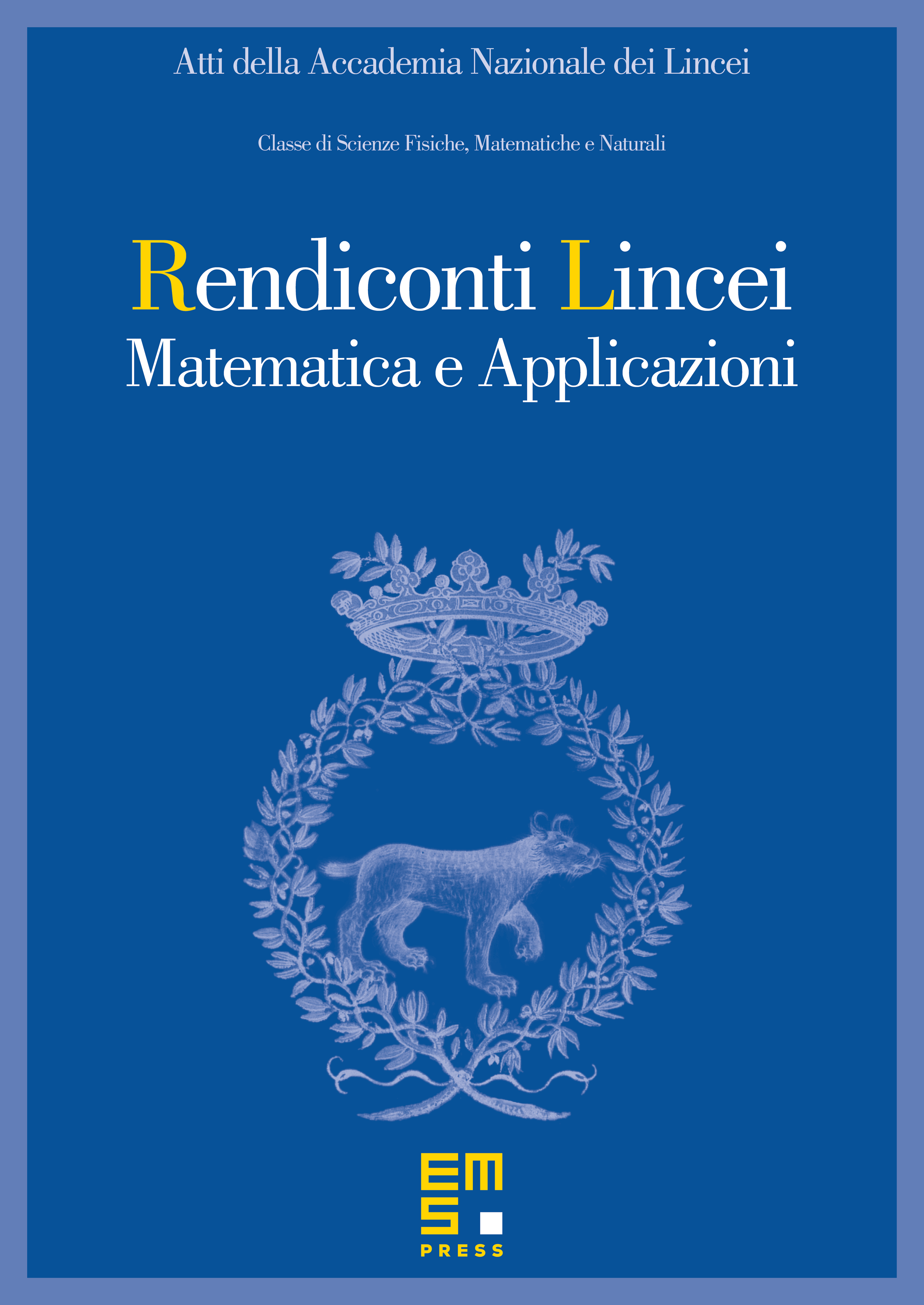 Submission of Manuscripts
Before submitting, authors are kindly requested to carefully read the journal's General rules for publication.
Authors are strongly encouraged to submit their manuscripts electronically, according to the instructions below, to the editorial office:
Dr. Roberta Schiattarella
Rendiconti Lincei – Matematica e Applicazioni
Via della Lungara, 10
00165
Roma (RM)
Italia
Email: rendmat@lincei.it
Only in exceptional cases should manuscripts be directly submitted to the journal's Director.
The following information is required with the submission:
Name of author(s) together with email address(es)
Complete mailing address(es)
Name of the corresponding author
Keywords describing the subject matter of the article
Authors must indicate, to which scientific chapters the matter discussed in the paper belongs.
To ease review, authors may also send copies of their own unpublished work to which relevant reference is made in the submitted manuscript.
Submitted manuscripts can be written in Italian, English or French. In special cases of particular interest to the journal, the Director, assisted by the Associated Editors, may consider the publication of articles in languages other than the previous ones. A summary and keywords in English are required if the paper is not written in English.
Authors are invited to indicate in which of the following chapters of mathematics the topic developed in the paper falls:
Algebra, Algebraic and geometric topology, Algebraic geometry, Analysis, Applications of mathematics, Calculus of variations, Complex analysis, Cryptography and coding theory, Discrete mathematics, Differential equations, Differential geometry and Lie theory, Dynamical systems, Foundations of mathematics, Function theory, Geometric theory of measure, History of mathematics, Mathematical physics, Operational research, Probability and stochastic processes, Numerical analysis, Number theory, Real, harmonic and functional analysis, Real and complex manifolds and analytic spaces, Theoretical computer science.
Submission of a manuscript implies that the work described has not been published before and that it is not under consideration for publication elsewhere.
Peer Review
The Rendiconti Lincei – Matematica e Applicazioni operate a single blind peer review process conducted by external reviewers selected by the editorial board.
Preparation of Manuscripts
We strongly encourage authors to make available LaTeX files for typesetting purposes. Upon final acceptance of papers, authors will be asked to submit all source files and macros together with a PDF file to the editorial office at rendmat@lincei.it.
Once an article has been accepted for publication, authors are kindly asked to
download the file RLM.zip;
follow the instructions included in the ZIP file;
submit their article in well-structured LaTeX using the template and the style file contained in the ZIP file.
Authors will receive a set of galley proofs of their article for final corrections, and they will be entitled to an electronic copy of the published article for personal use. They may write to production@ems.press to ask for such an electronic copy.
Open Access
The Rendiconti Lincei – Matematica e Applicazioni is a Subscribe to Open (S2O) journal, which means that articles may be published open access. There are no author fees or article processing charges associated with this mode of open access. Open access articles are published under the CC-BY 4.0 license. Authors may review our Terms of Digital Access for further information regarding licenses and repository deposits.